Weapons Sent To Ukraine Being Smuggled To Criminal Gangs
Money Sent To Ukraine Is Money Laundering Scam
If you take the time to study the Ukraine situation (not what MSM tells you), you will find that it's a fraudulent criminal money laundering operation making lot's of money for many people.
Lack of oversight creates environment where traffickers can operate with ease
Image Credit:
Anton Petrus / Getty
A Tuesday report by the Financial Times revealed European nations are concerned weapons being sent into Ukraine are getting smuggled into the hands of dangerous criminal gangs.
The outlet reported, "A number of Nato member states are discussing with Kyiv some form of tracking system or detailed inventory lists for weapons supplied to Ukraine."

"All these weapons land in southern Poland, get shipped to the border and then are just divided up into vehicles to cross: trucks, vans, sometimes private cars," a source told the Financial Times. "And from that moment we go blank on their location and we have no idea where they go, where they are used or even if they stay in the country."
US Undersecretary for Arms Control and International Security Bonnie Denise Jenkins issued an online press briefing on Tuesday, saying, "The US very seriously takes our responsibility to protect American origin defense technologies and prevent their diversion or illicit proliferation."
Jenkins added, "We are confident in the Ukrainian government's commitment to appropriately safeguard and account for US [weapons]."
EU interior ministers reportedly discussed the issue of black market arms trafficking in Ukraine last week, and on Monday the EU created a hub in Moldova to combat both weapons and human trafficking coming from Ukraine.
Czech Defense Minister Jana Černochová isn't very optimistic arms smuggling will be stopped, telling reporters on Friday, "It's hard to avoid trafficking or smuggling — we didn't achieve it in former Yugoslavia and probably won't avoid it in Ukraine."
In April, the EU police agency Europol sent a letter to several European nations warning, "The Russian war of aggression against Ukraine has resulted in the proliferation of a significant number of firearms and explosives in the country."
"Initially, Ukrainian officials maintained registers of firearms handed out to civilians, but this practice was abandoned as the war progressed and firearms have been distributed without records since then," the Europol notice stated.
New Mexico Congresswoman Yvette Herrell (R) wrote on Twitter Wednesday that black market arms sales are what she and 21 other members of Congress warned about in May.
EU Parliament member Christine Anderson also posted to Twitter Wednesday, writing, "The #Ukraine war is supplying the #EU market with illegal weapons. Human trafficking is also booming. #Europe must act urgently."
Investigative journalist Glenn Greenwald pointed out that those who warned of illegal weapons trafficking taking place in Ukraine when the war began were deemed traitors and Kremlin assets.
Meanwhile, as high-tech weapons being sent to Ukraine get lost in a black hole, the Biden administration continues to send billions of US tax dollars to the corrupt Zelensky government.
---
---
CLICK HERE to watch our live feed that's now streaming 24/7 on GETTR! Also, be sure to follow Alex Jones and Banned.video on GETTR for breaking news and exclusive information!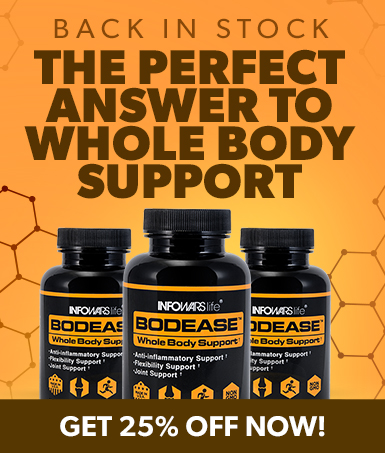 IN CASE YOU MISSED IT…
Featured
"Hush Your Mouth": School Board SILENCES Dad Calling Out Pornographic Book Available at School Library
Featured
There's Something Wrong With Biden
Featured
Learn Why the NY Times Published a Puff Piece on Alleged Jan 6 Provocateur Ray Epps
Featured
5th COVID Jab Rollout Signals Continued Culling of World Slave Class