Decentralized Social Media Platforms 2022
Solutions In The Age Of Big Brother Censorship
Extremely important article for the solution to Big Brother Censorship –
 THE DECENTRALIZED BLOCKCHAIN 
Alternatives to Twitter, Facebook, Google, Youtube and others
DECENTRALIZED BLOCKCHAIN PLATFORMS are the answer for the escape from Big Brother Censorship
Over the past few years, there has been a boom in Decentralized Social media networks. New platforms are springing up making the competition for the growing audience even stiffer. Every platform is in a race to offer the best features to ensure users get the best experience.
And with the boom in blockchain technology, many social media platforms have chosen to focus on adopting decentralized principles to protect from censorship and to tap into a vast array of use cases blockchain offers.
Not only decentralized social media platforms give people a place to have open conversations with like-minded people, but they also allow users to be in total control of their accounts.
This is because in many cases data is open, decentralized, and immutable meaning the platforms are incapable of deleting, blocking, or moderating users' behavior.
And not only users enjoy more freedom but many of the decentralized social networks actually let users get paid for creating content, driving traffic, and referring friends.
That being said, here's some of the best decentralized social media networks in 2021
---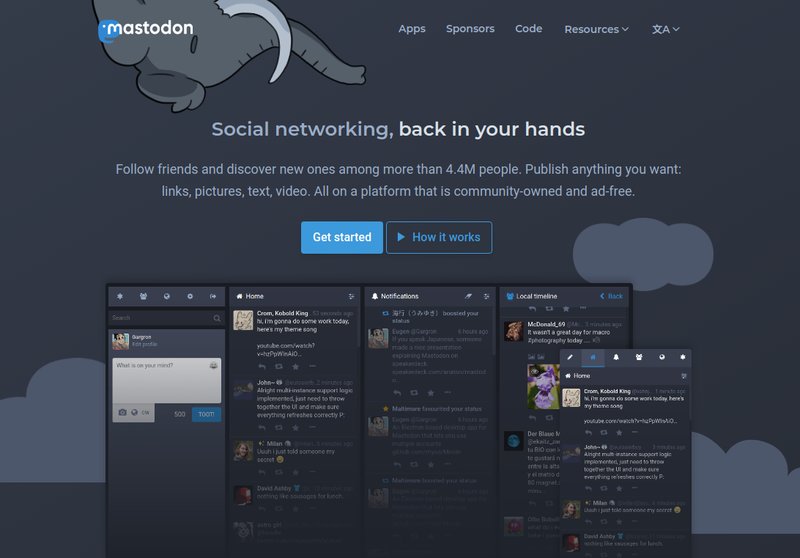 Mastodon is currently the most popular alternative platform that offers open-source decentralized self-hosted social networking services for free.
It is a self federated system, meaning it has different servers that are hosted by users and these servers also act as nodes within the network. These servers/nodes are referred to as "instances" and users from different servers can interact seamlessly since the servers are connected by a single network.
New users joining the platform can either choose to join an already existing sever or create their own server and attract other users to it. It's also important to note that each of the servers provides its own terms of service, code of conduct, and moderation policies.
Mastodon users can enjoy very similar microblogging experience like twitter, by posting short messages referred to as "toots" for other people to see depending on the privacy settings used.
The platform itself doesn't reward users for their content like some of the other platforms on this list, but due to it's open and controllable nature, it has become very approachable and popular within communities not wanting to get censored.
Get started, create Mastodon account today!
---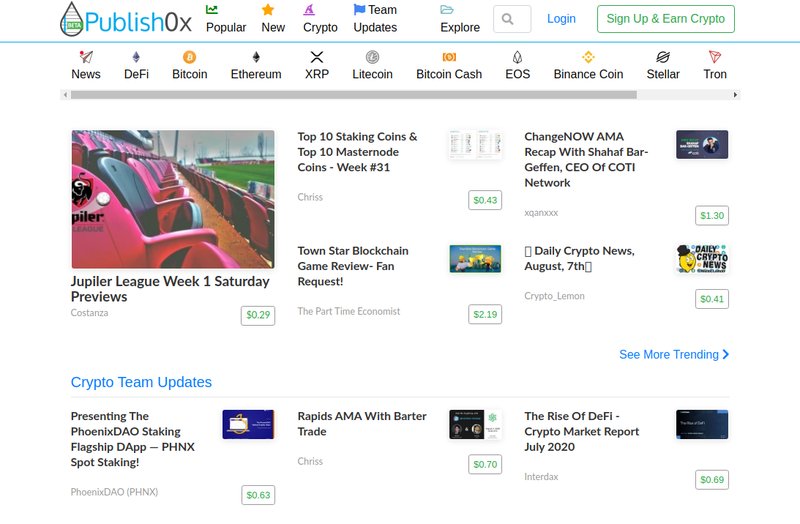 Publish0X is a decentralized social media platform where authors and readers can earn cryptocurrencies from the platform's reward pool.
Currently, Publish0x doesn't have its own coin and is crypto agnostic, meaning there are no whales holding a single position with all the voting power.
On the platform, Publishers earn cryptocurrencies when readers select to tip them. And while this happens, at the same time, when the reader tips the author, they can choose the amount of crypto to give the author and the amount left for them to keep themselves.
While anyone can still register an account, read and give tips to publishers, currently to become an author on the platform, a simple application is required to make sure content is worthwhile and brings true value for the readers.
Sign up, and start earning crypto on Publish0x!
---
Uptrennd is a decentralized social media platform where users create posts and earn cryptocurrency tokens for every Upvote they receive.
The platform empowers users to thrive by creating value, raising their voice, while simultaneously respecting the user's privacy.
Users on the platform can send uptoves for free, the upvotes represent tokens on the platform, which can then be used to either gain exposure, level up the account to increase the number of tokens one can earn per upvote, tip readers or simply exchange for another currency.
Registering on the Uptrennd platform is free, and anyone can become an author no pre-requirements are needed.
Register on Uptrennd, and get Rewarded to Post!
---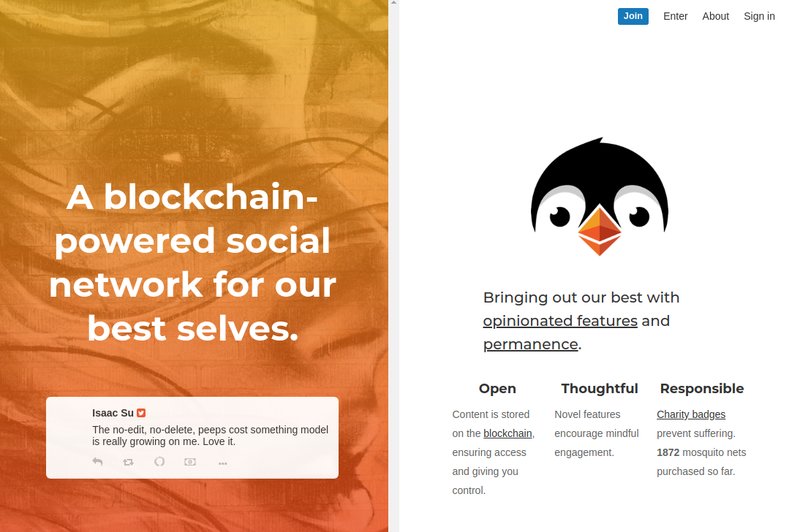 Peepeth is a blockchain-powered decentralized social network where the data & information shared on the platform are stored on Ethereum blockchain making it immutable and secure.
Peepeth is quite different from others mentioned to this far, as all the data is saved to an open, public, and permanent database meaning it has no edit or delete options.
Therefore Peepeth gives users total control of their online presence, making everything transparent while encouraging users to be mindful, and responsible.
The platform also has no system in place for rewarding users monetarily for their content, however, tips are allowed, which Peepeth takes a 10% fee as well.
Join Peepeth, and take back control of your online content!
---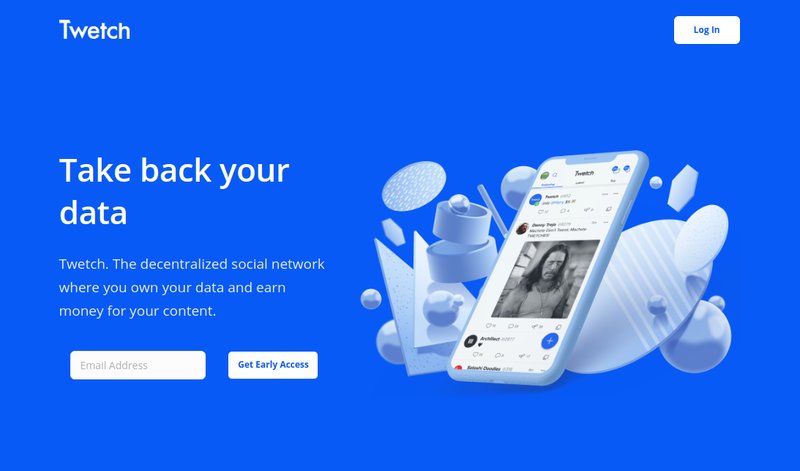 Twetch is a blockchain-powered decentralized social network where users pay a small microtransaction to upload information to the Bitcoin SV blockchain and they earn direct cash in Bitcoin SV for every interaction they get.
Twetch is technically one of the most advanced platforms on this list, as it not only stores transparently everything on the blockchain forever, but it also requires payment for every twetch and interactions users do.
Because of the cost of interactions, users can generate quite creative ideas in order to control the flow of the funds, for example instead of blocking a hater, you can choose how much it costs for a user to interact with you using the command /trolltoll.
This way Twetch not only empowers people to own their content, but it also allows users to earn from it, and control it in whatever way they want.
Twetch is currently in early phase, meaning invitation is required to register an account.
Get early access on Twetch platform!
---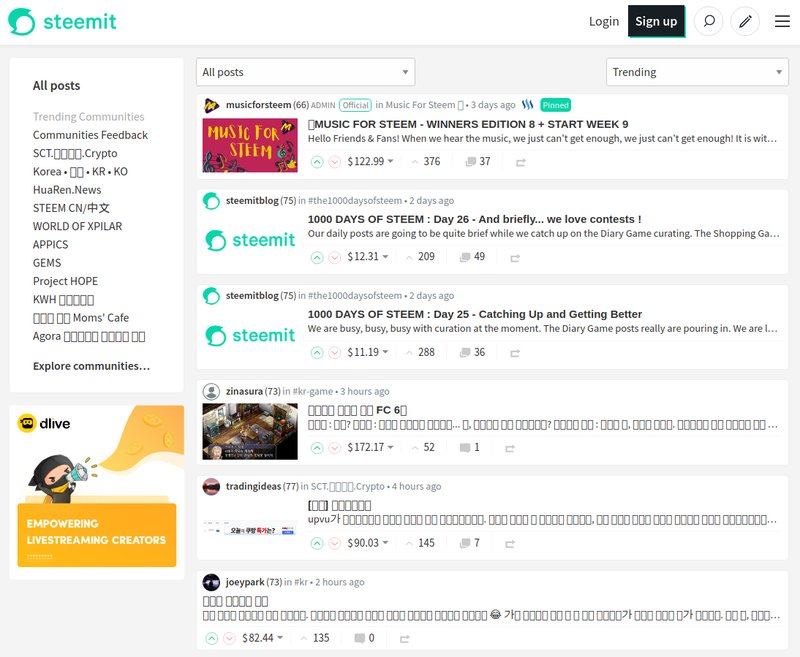 Steemit offers a decentralized social media platform that is powered by the Steem blockchain and STEEM cryptocurrency. Users are rewarded for sharing posts through Upvotes, and Upvoting for articles.
Steemit was the first blockchain projects that got into working with the social media industry, and not only it became one of the most popular platforms, but by being first in the industry during its early phase users could earn huge sums of money by creating simple content now available on all other platforms.
Steemit is also designed in such a way anyone can implement the open-source core and therefore create their own platforms that still uses Steemit on the background.
Account creation is totally free, however, the platform requires email, and phone number in order to "verify" one is a real person.
Sign up on Steemit and start earning by creating content!
---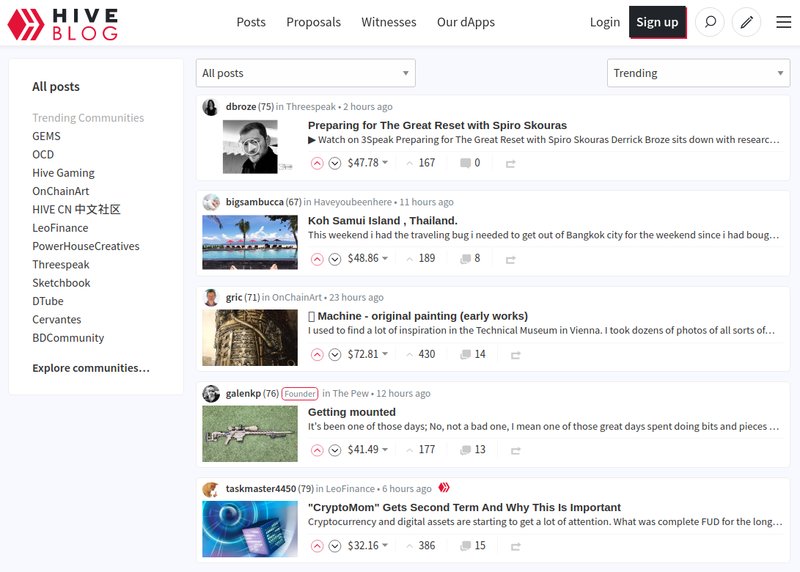 Hive Blog is one of the spinoffs of the Steemit platform, however, contrary to some of the other open-sourced Steemit platforms Hive Blog is powered and uses its own Hive cryptocurrency.
Technically Hive Blog uses Steem chain's core code, and is the exactly same platform as Steemit, the only main difference is the whole new cryptocurrency to power up the platform.
Therefore users can earn Hive cryptocurrency by being upvoted on the platform, and upvoting others. The platform as well doesn't cost anything to use, but registering an account is required.
---
Trybe is an EOS blockchain-based decentralized crypto-powered community platform where users can post content and get rewarded in the form of TRYBE token by the community.
Authors on the platform can earn Trybe by simply creating content, the rewards come in the form of tips from the readers, and is free for the users.
These tokens can then be exchanged with any other form of currency users wish to use.
Trybe platform is simple to use and easy to get started with, as no special requirements are needed in order to become author or reader on the platform.
---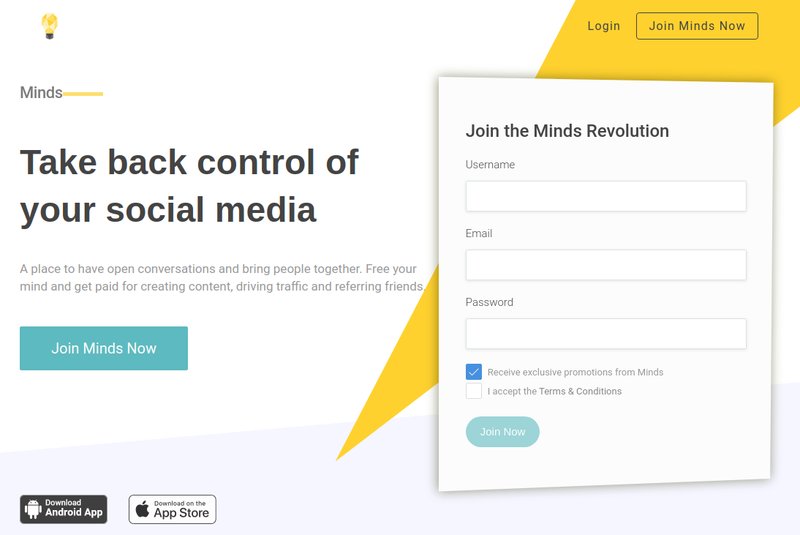 Minds is a blockchain-based social platform where users can post videos, statuses, images, and blogs and earn crypto tokens for their daily contributions on the platform.
Contrary to other crypto-related platforms, minds is actually quite popular within the general population, meaning rather than being mostly about cryptocurrencies, the topics range mostly within a variety of ordinary everyday things.
Users on the platform can earn tokens for their daily contributions and use them to upgrade their channel, boost their content to reach more people, and support other creators.
Account creation is free, and direct payments can be received in USD, Bitcoin, and Ethereum.
---
Ignite is a quite new blockchain platform that offers decentralized microblogging services. And it is based on open-source Prometeus network infrastructure.
The platform is designed for users to be able to communicate worldwide and free, without any type of censorship. And the data within the platform cannot be deleted, blocked, or moderated.
The Prometeus network also offers a range of features to protect and monetize users' data, for example, the data can be bought, or sold, in the forms of documents videos or pictures in a decentralized manner.
Sign up and explore what Ignite is all about!
---
Cent is an Ethereum powered social network where content creators and fans can earn Ethereum cryptocurrency from tippers all around the world.
The Cent platform is quite unique compared to other platforms on this list, as it is heavily pictured oriented, meaning the visual representation is very important.
Earning through creative work on the platforms happens through something called seeding which simply means you can receive monthly contributions from other users.
However, this seeding has a unique twist to it, since whenever you are seeding content creator after someone has already seeded before you, you will also earn half of the contribution. The platform itself takes a 5% fee.
---
Flote is a community-driven social platform where users can share and monetize any form of content ranging from texts posts, audio, images, to videos and earn cryptocurrency.
Although the platform doesn't really utilize any decentralized elements nor is it run on the blockchain, it is still driven by freedom-loving people, and gives users access to utilize encrypted messaging and cryptocurrency payments, making it impossible for third parties to restrict the flow of currency.
Therefore users looking to monetize on the platform can create content that is only accessible via payments made in Bitcoins.
---
Bottom Line
Decentralized social media platforms are in growing demand as the constantly growing regime of governments with their ridiculous censorship and restrictions keep banning, deleting, and otherwise censoring content that is against the public narrative.
Therefore it's important for each of us cryptocurrency users to find alternative ways to communicate and keep in touch, as the decentralized revolution won't be spread without us all working together.
By utilizing some or all of the platforms on this list, you can make sure your voice cannot be silenced no matter what, and while doing this, you can also benefit from the new technology and methods of earning without restrictions.
That being said, if you know platforms that you think should be included or are not listed here, let us know as we would love to hear from you.