How To Survive A Cyber Attack On America
Is This The Next Move Planned By The Globalists?
The next phase of the globalist war is escalating to a planned "lights out" scenario. This will involve deep state-run cyber attacks on financial institutions, telecommunications and the power grid.
BY HEALTHRANGER 
//
 2022-03-01
Mastodon

 Parler

 Gab
 Copy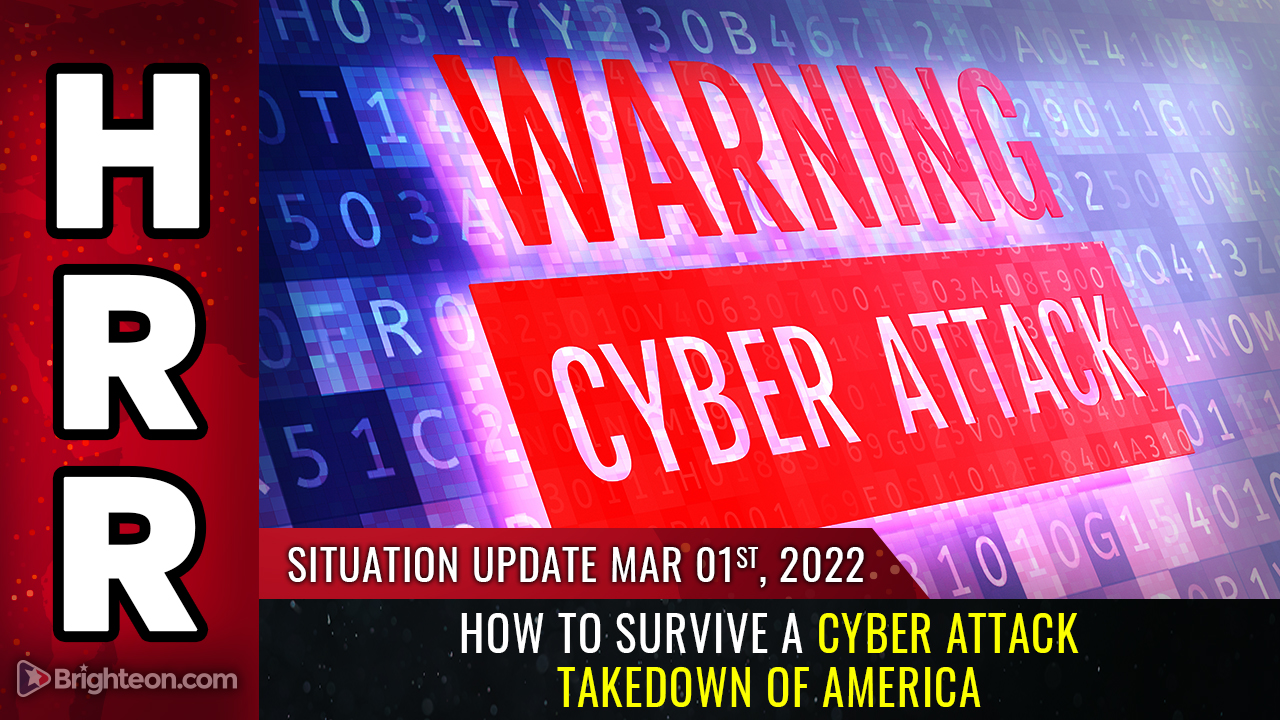 Analyzing the current dynamics of the pre-planned world war crisis now unfolding in Ukraine, it looks like cyber war is going to be the globalists' next move against humanity. With the covid narrative having collapsed — and with vaccines now widely rejected by the informed public — the next phase of the globalist war is escalating to a planned "lights out" scenario. This will involve deep state-run cyber attacks on financial institutions, telecommunications and the power grid, all to be blamed on Russia. These attacks are designed to achieve what the vaccines were originally hoped to achieve: Large-scale depopulation of western nations and the collapse of the United States of America as a sovereign entity. The contrived war with Russia was a necessary step in the narrative to blame Russia for the deep state cyber attacks on America, of course. This means the cyber attacks are probably very close. It also means that we all need to be especially prepared for cyber-related takedowns in the context of our own preparedness.
Audit your reliance on internet services and the power grid
In today's Situation Update podcast (below), I urge people to audit their own reliance on cloud computing services and internet systems as well as the power grid. Far too many people require the internet to function in order to be able to:
Enter their own homes ("smart" home door locks, which are an incredibly stupid idea)
Operate their electric vehicles (Tesla)
Engage in financial transactions (they have no cash) to buy anything
In addition, the power grid is obviously necessary for all these things and much more:
Run heating or air conditioning systems that make your home livable
Municipal water supply
Cell tower operations
Cooking food
The winning strategy in dealing with all this is to create off-grid redundant systems for each of the key areas for survival such as food, water, shelter, self-defense, emergency communications, emergency medicine and so on. This means going super low-tech, which is why I have been strongly advocating the use of low-tech, non-electric systems. Start thinking like the Amish, in other words. The Amish had it right the whole time.
How will you cook food, flush the toilet, filter water or contact loved ones when the grid is down and the banks don't work?
Those who wish to survive what's coming need to think seriously about how they're going to cover the basic necessities without a functioning power grid or banking system. While outages won't be everywhere or permanent, we should all expect intermittent or regional outages of unknown duration. In a worst-case scenario, some systems could stay down for months. If you conduct an honest evaluation of the risks and the solutions to all this, you quickly realize that cities are death traps. They are simply not survivable in a cyber war takedown scenario. Thus, getting out of the cities is critical for survival. (The social order in America's cities will collapse within hours of a grid-down scenario.) Even then, surviving in rural areas requires planning and practice so that you are familiar with how to run the off-grid systems you need to operate in order to survive. Did you know you can build a rocket stove out of cinder blocks? You only need 4 blocks. See this video:
Think about low-tech or alternative tech solutions for survival. Satellite phones work even when the local cell towers don't function, for example. Solar generators allow you to gather enough power to charge flashlights, mobile phones and even laptop computers. A collapse of the prescription medicine supply chain means it's smart to reduce your reliance on prescription medications because they may simply not be available. You can actually grow your own medicines via sprouting or hydroponic grow systems.
Growing food can be done rather easily using off-grid, non-electric, non-circulating hydroponic systems. I've filmed a video on my own "grow bin" systems (using the Kratky method) that you can see here:
Search Brighteon.com for "kratky" or "hydroponics" to see a lot more videos on this subject. Today's Situation Update podcast focuses on low-tech, off-grid solutions for food, shelter, communications, security, financial interactions and much more. Listen here and learn how to survive the cyber war takedown of America: Brighteon.com/bca6f33c-36b3-4f62-9635-2eb4a424e539
Find more information-packaged podcasts each day, along with special reports and emergency updates, at: https://www.brighteon.com/channels/HRreport Also follow me on: Brighteon.social: Brighteon.social/@HealthRanger Telegram: t.me/RealHealthRanger Gettr: GETTR.com/user/healthranger Parler: Parler.com/user/HealthRanger Rumble: Rumble.com/c/HealthRangerReport BitChute: Bitchute.com/channel/9EB8glubb0Ns/ Clouthub: app.clouthub.com/#/users/u/naturalnews/posts Join the free NaturalNews.com email newsletter to stay alerted about new, upcoming audiobooks that you can download for free. Download my current audiobooks — including Ghost World, Survival Nutrition, The Global Reset Survival Guide and The Contagious Mind — at: https://Audiobooks.NaturalNews.com/